Our engagement shoot is almost exactly one month away, and one pressing question we need to answer is whether or not to use props in some of the photos. Like many of you wedding blog readers, I'm always amazed by picnic or random furniture in a field engagement shoots.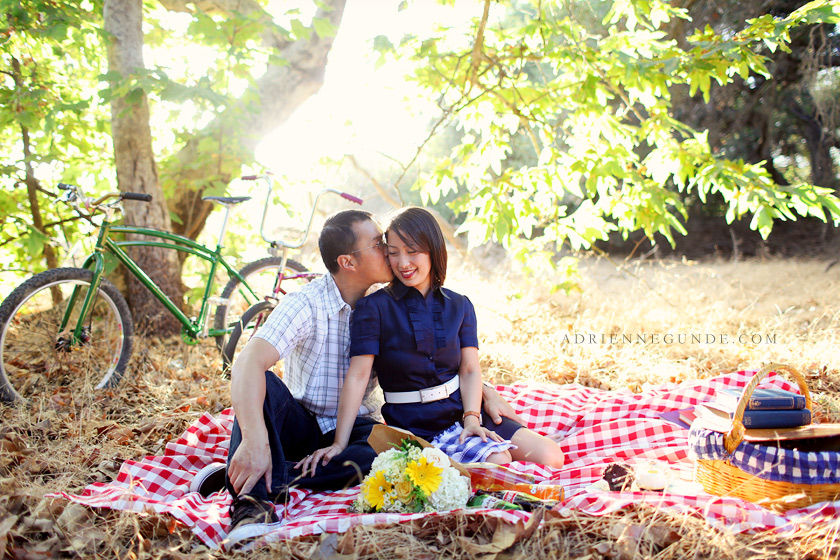 Gorgeous - and So. Much. Work. Seriously. I do not have the energy to even think about how to make all that happen. But I do see the appeal of some less labor-intensive prop options. Having something to interact with might help us appear a little less awkward and camera shy than we actually are. Plus, depending on what props we chose, it could be a way to personalize the pictures a bit. So last summer I cobbled together a few props for us, should we decide to use them. (Yes, you read that right -
last summer
. What can I say? I was unemployed and loving it!)
I originally bought this ampersand and outfitted it with the black and white houndstooth pattern to hang between our chairs at the reception. But then I thought we could get double use out of it if I just created other fun paper coverings for it and brought it with us to the engagement shoot.
This large white frame began as a really ugly garage sale purchase, but a little primer and glossy white spray paint gave it a second go at life. Regardless of whether or not we use this for our engagement shoot, it's potentially useful as a photobooth prop or a set-up for escort cards or something.
I made this super-simple, super-cheap pennant banner especially for our engagement shoot because we hope to use one of the final images to create thank you cards we can send for shower and wedding gifts. We'll probably just trust our photographers to determine whether we should hold the ends ourselves or string it up somewhere. Either way, we liked the idea of personalizing our thank you cards a bit and we hope our guests will appreciate it as well.
These, my fair readers, are our dissertations. I will now give you a moment to pause, stare, admire, and bow down if you must. Take your time. I know, it's incredible. Two little books (*ahem* one [mine] a bit smaller than the other) representing the culmination of a combined 87 zillion years of schooling. I have no freaking idea how we could use these without it looking totally random, but these little devils have been a BIG part of our relationship history so if we're going the prop route then it only makes sense to try and include them.
That's IF we go the prop route. I'm concerned that this measly collection of items will be too minimal to make any kind of artistic impact. Plus I've flipped through the engagement shoots on our photographers' website and most of them don't feature any props. Surely many of those couples were just as nervous and camera shy as we are, yet they look wonderful in their pictures. So now I'm just not sure. Obviously we'll try to keep the 'thank you' banner because we already have a use in mind for it, but we might end up scrapping everything else. We still have a few weeks to make a final decision and, if we can't decide, I guess we could just lug all of it with us and let our photographers sort through it. Ya know, pass the buck. Easy peasy.
What do you think - should we bring the props with us? And have you ever used props for a photo shoot, or do you prefer a more au naturale look?