There was a bit of a tiff in our household yesterday morning over something pretty ridiculous (umm... that's new and different). I was telling Mr. NM that Party Person E loved the infinity dress I sent her to try on, but she had concerns that it wouldn't be "fancy enough" for our wedding. This sparked an interesting, and at times heated, conversation between us about what we assumed people (wedding party and wedding guests) would wear at our wedding. Mr. NM is okay with a pretty wide range of attire, but it's just important to him that women not feel "forced" into wearing dresses. I have a more limited scope of what I think would be appropriate (not red carpet at the Oscars fancy, not afternoon at the beach casual), but what's most important to me is that our wedding
guests
not be more fancified than our wedding
party
.
Because we
have to
get to dress the wedding party the question really is how, or if, we communicate a dress code to our guests. Mr. NM at first thought we should just include the statement "business casual attire suggested," but I didn't really know what that meant plus I didn't like the idea of mentioning "business" when I think of our wedding more as a par-tay. So Mr.NM did some research about what the code words are for suggested attire. To save you from having to research this yourself here's the bare bones basics of what we found (in order of formality)*.
White Tie: The highest formality of attire, and not as common in the US. Men are expected to wear a tuxedo, coat with tails, white vest, and a white bowtie. Women should wear a formal floor-length ballgown, usually in a dark color.

Black Tie / Formal: Generally the dressiest category in the US. Men would wear a single or double-breased dinner jacket (a.k.a. tuxedo) and black tie. Women would wear a long gown, dressy evening separates, or possibly a cocktail dress depending on the time and location of the event.

Black Tie Optional: Primarily provides more options to men. Men have a choice of tuxedo or dark suit and an evening tie. Women can wear a long gown, evening suit, or cocktail dress in a dark color.

Creative Black Tie: For both men and women, this wording allows for a more festive, trendy, or unique take on black tie attire. This can be achieved through clothing and/or accessories.

Semi-Formal / After Five / Informal: Tuxes and long gowns are not required. Men should wear a suit and tie with a white shirt, and the color of the suit depends on the time of day of the event. Women should wear a cocktail dress, a more elegant afternoon dress, or a dressy pant look depending on the time of day and location.
Cocktail: More dressy than you would be for work, but not too formal. Men wear dark suits or dark jackets with light pants, and ties are usually optional. Women wear short, elegant dresses or dressy evening separates.

Business Formal: This language is not generally used in reference to social occasions. It refers to tailored suits, light shirts with French cuffs, and silk ties for men. For women, it means conservative business suits (skirts or slacks).
Beach Formal: Suggests an elegant affair but you should be prepared for the elements. Men can wear a summer suit, no ties required. Women can wear a sundress. Both can wear sandals.

Business Casual: Also not a term generally used for social events. For men it refers to sports coats and slacks with loafers and optional tie, or a similar combination of formal and casual elements. For women it suggests casual pants or skirts paired with tailored and professional blouses or sweater sets.

Dressy Casual: This calls for more dressed up versions of casual looks. Men might wear casual trousers and a sport coat. Women might pair a casual top with dressy pants.
And, just for the record, I realize how completely gendered these descriptions are. So if you're a queer couple, you get to play around a little with issues of formality and how the rules do or don't apply to you.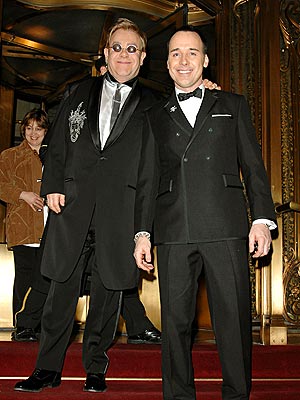 Now, I'm assuming that most people suggest attire to their guests so that people don't
under
dress. I have the exact opposite concern, though. As I've said before, I'm afraid people will take note of the location (downtown San Francisco), the venue (Parc 55 Hotel), and the time of day (6:00 ceremony), and show up dressed in more fancy attire than I even own. So if I'm gonna offer some apparel guidelines to our guests, it's because I don't want them to upstage me, Mr. NM, or our wedding party! We're not yet convinced we need to suggest attire to our guests somewhere in the invitation suite. If we did, I would prefer something cheeky like "Come dressed for dancing!" or "Black tie highly discouraged," whereas Mr. NM prefers more straightforward language like "Cocktail attire suggested."
While researching this post I came upon this quote on a
wedding invitation etiquette site
, which just confirmed all my forementioned fears:
"Usually, making any suggestion about how your guests should dress up is considered socially impolite but if a wedding has a theme and you would like to maintain that atmosphere, it is preferably to make that suggestion. "Black tie" is not traditionally mentioned on the wedding invitation and your guest must assume that this is necessary especially if the event takes place after six o'clock in the evening. Though if you find it necessary you can add as a footnote of the reception card the expression "Black tie", with the "B" capitalized and the "t" not."
So... if we don't say something then people will definitely be over-dressed for the kind of affair we're envisioning. But if we do say something that we're being socially impolite. Argh...
How are you or did you navigate dress code issues at your wedding? Have you ever received an invitation to an event that had a suggested attire? If so, did it offend you or was it helpful to you?